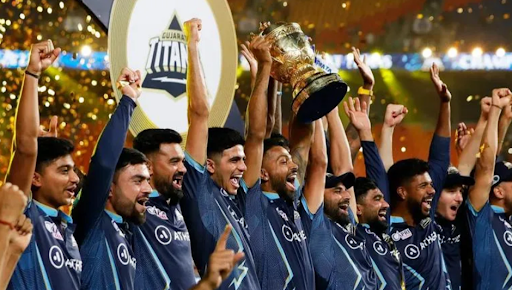 Gujarat Titans (GT) Coach and their achievements
Gujarat Titans (GT) Coach and their achievements
25 July 2022  Authorbaji188
Ashish Nehra, a former left-arm bowler for the India National Cricket Team, was selected as the head coach of the Gujarat Titans (GT) of the Indian Premier League (IPL) 2022 competition. He has written history by becoming the first Indian head coach to win an IPL title.

Gujarat Titans (GT), led by Ashish Nehra, defeated Rajasthan Royals (RR) by 7 wickets in the championship game on Sunday, May 29 at the Narendra Modi Stadium in Ahmedabad to win the IPL season.

Furthermore, Nehra won the Indian Premier League (IPL) championship as a player on May 29, 2006, six years prior. He was a member of the Sunrisers Hyderabad (SRH) team that defeated Royal Challengers Bangalore (RCB) to win the championship under the leadership of David Warner.

Additionally, Ashish Nehra has joined a select group of those who have won the prestigious Indian Premier League event as both a player and head coach, including Ricky Ponting and Shane Warne.

The Gujarat Titans' first season was transformed by the partnership of head coach Nehra and mentor Gary Kirsten. Following the victory, Kirsten remarked on how much he had enjoyed working with Nehra and mentioned how strategically adaptable GT's head coach is.

Kirsten added that working with Ashish has been wonderful since he is so strategically skilled; it is difficult to put up a game plan on the spot. Each game has a lot of moving parts, but what he appreciated is the responsibility players have shown in helping them win matches.

Notably, Australian wicketkeeper-batsman Matthew Wade stated that Nehra made sure that the team had a family-like atmosphere following the IPL 2022 final.

Wade commented that among the team members there was just a friendly and collaborative atmosphere, with Hardik and Rashid taking the lead. Everyone was made to feel welcome, and Ashish [Nehra] made sure of that. Here, everyone is given equal opportunity and screen time. It's been incredible; perhaps they can return in front of these supporters the following year.

On the other hand, GT captain Hardik Pandya also did remarkably well in IPL 2022. According to former India head coach Ravi Shastri, Hardik Pandya's increased responsibility as captain of Gujarat Titans has aided in his development as a cricketer. After the 2021 T20 World Cup, the 28-year-old took a brief break from cricket to improve his health. He made a comeback to the sport in the 2022 IPL, when he was selected captain of the brand-new Gujarat Titans. Gujarat won the title in their inaugural season under the direction of the flashy all-arounder.

Pandya was shocked when Mumbai Indians decided not to keep him before the auction, according to Shastri, who has worked with Pandya while serving as the head coach of Team India.

With the Mumbai Indians, where he began his career in 2015, Hardik won four Indian Premier League championships. He had outstanding success with the five-time champions with both and ball, and this helped him earn a spot on the Indian team.

In order to create balance in the lineup, the 28-year-old took it upon himself to go up to numbers 3 and 4 in the batting order. In 15 games, he scored 487 runs at a magnificent average of 487. In the title-winning campaign, he also developed his bowling fitness and claimed eight wickets.