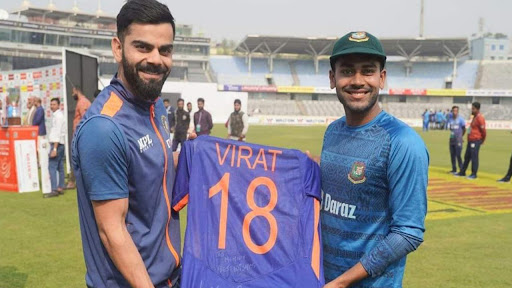 Kohli gave a jersey to Miraz
Kohli gave a jersey to Miraz
17 February 2023  Authorbaji188
Mehidy Hasan Miraz has shown an impeccable performance in the recently concluded India series. This young all-rounder has spread light as usual with the bat. He has made an important contribution in winning the ODI series of Bangladesh. He was the best of the series as a reward for his good performance. However, at the end of this bilateral series, another thrilling memory has been added to Miraz's cricket career.

Virat Kohli presented Miraz with his signed jersey. The Indian star has written "To Mehidy, Best wishes" on the back of the jersey. Receiving the gift, Miraz said, "Kohli is one of the greatest cricketers of all time. He is my favorite. I asked him (Kohli) for the jersey during the series. It's a big deal to have the jersey of such a great player in his collection. He remembered it. After the match, Kohli called me and gave me the jersey. Great thing."

However, and Kohli also took a smiling picture in Mirpur while receiving the jersey. Miraz said about the conversation, "Kohli jokingly said Mehidy , you are taking me out and taking my jersey again. I feel very happy to share such a scene with him." Note that Kohli was also dismissed by Miraz in the second innings of the Dhaka Test. The two cricketers of the two countries made fun of that.

Meanwhile, Miraz shared the fact of receiving a gift from the Indian star with her fans on social media. Sharing a picture of the moment on his official Facebook page, he captioned it, "Kohli is one of the best players of all time. This is memorabilia from him." Miraz's post went viral instantly. Many cricket fans have praised Kohli and Miraz there.

It should be noted that Kohli was seen to be angry with the Tigers several times in the Dhaka Test. Finally, a big event is about to happen. But at the end of the match, he forgot everything. Seen with a smile. At the end of the day, cricket is a gentleman's game, perhaps the proof has been found again. So, the best batsman of all time is floating in the tide of praise by gifting the jersey to Miraz.