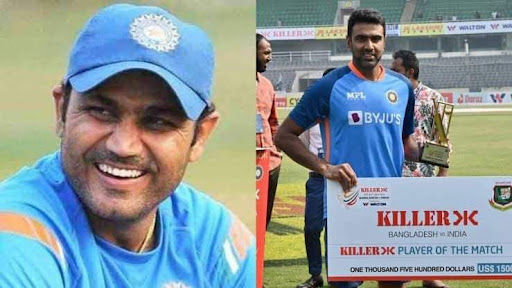 Sehwag praises Ashwin
Sehwag praises Ashwin
18 February 2023  Authorbaji188
In the Dhaka Test, the fight between Bangladesh and India was completely equal. Both teams looked likely to win. The two teams have also shown the ability to turn around from the fear of loss. On the fourth day of the match, the equation stood, India needed to score 100 runs to win. Tigers on the other hand need only 7 wickets. However, Indian all-rounder Ravichandran Ashwin became the hero on this day.

Virender Sehwag heaped praise on Ashwin after his outstanding contribution to anchor India to the port of victory. The experienced all-rounder has also been called the "scientist" of cricket by the former Indian star. Sehwag said, "Scientist Ashwin did it. Gave India an incredible win. He batted brilliantly under pressure with Shreyas Iyer."

Ashwin has performed evenly with bat and ball in this match. He took a total of 6 wickets in two innings. Besides, he showed a match-winning performance in the last innings with the bat. Ashwin remained unbeaten with 42 runs from 62 balls. Where he made a pair of 71 runs with Iyer. Due to his all-round performance, the man of the match award has also been awarded to him.

Of course, it is natural for Ashwin to be praised by everyone. Because on the wicket where Virat Kohli could not stand, Ashwin fought and won. Shakib Al Hasan, Mehdi Hasan handled the whirlwind of Mirajs with a cool head. He also picked up runs by adapting to the wicket. After such a perfect innings, Sehwag expressed his admiration by calling Ashwin a scientist or cricket scientist.

Meanwhile, India advanced to the ICC Test Championship as a result of Ashwin's victory. They climbed to number two in the points table. Currently, Australia occupies the top position. As a result, India has the opportunity to play the final for the second time in a row. Earlier, losing the final to New Zealand in 2021, Kohli could not prove his superiority in white.

After the T20 World Cup failure, India's focus is now on Tests. Although the runner-up in the first edition of the ICC Test Championship, Team India wants to become the champion this time. Rohit is walking on that path. It remains to be seen whether India will finally be crowned Test champions. But this time the disciples of Rahul Dravid are very desperate to get success.