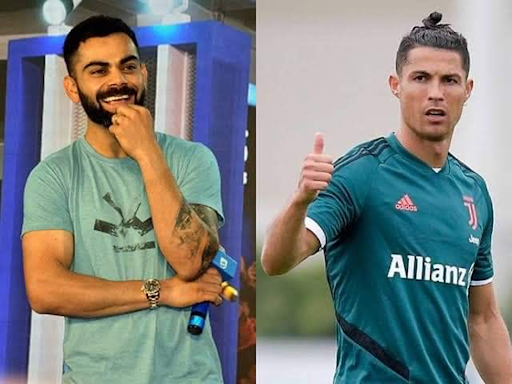 Where Kohli has similarities with Ronaldo
Where Kohli has similarities with Ronaldo
27 May 2022  Authorbaji188
Indian cricket poster boy Virat Kohli has not got a good start in the Indian Premier League (IPL) this season. His bat has not been happy for a long time. He returned with zero runs in two matches. He has not scored a century with his bat since 2019, far from that century, he could not play any role for the team with the bat. Cricket fans were worried about the condition of a champion performer. Kohli's coach Ravi Shastri had said that Kohli should leave the IPL and take a rest.

However, all worries have ended and the run has returned to Kohli's bat. He may have breathed a sigh of relief after playing an innings of 58 off 53 balls against the Gujarat Titans on Saturday, but has he been able to give relief to everyone? Because his innings did not work for the team. The team lost that match. But former England star Kevin Pietersen thinks the innings are a big step for Kohli's comeback.

In an interview with Star Sports, Pieterson said that the biggest aspect of Kohli is that "He can help win the country by chasing runs. You can see how many times Kohli has chased down and India won," he said. "This is the best aspect of Kohli. To me, Kohli is the best batsman in India, because he has chased down runs and India won many times. This matter is really different. Kohli is also proud of this. "

Pieterson also called on Virat Kohli to take a look at Manchester United star Cristiano Ronaldo. According to him, these two are big advertisements for two sports, one for cricket and the other for football. He sees the two at the same point in another place. The two are a matter of discussion in their own game, one playing for Manchester United, the other for Royal Challengers Bangalore, in India. He remarked that the cricket star should look at the football star Cristiano Ronaldo. Kohli and Ronaldo are playing for their respective teams in two sports. Virat Kohli is the top star of cricket, and Cristiano Ronaldo is the top of football.