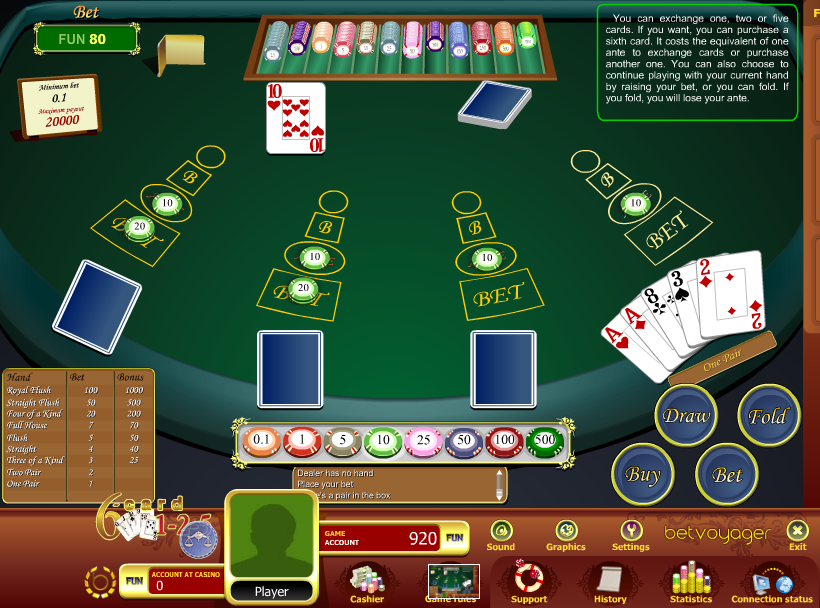 How to Play 6 Card Poker 1-2-5
How to Play 6 Card Poker 1-2-5
July 16, 2021  Authorbaji188
Rules of 6 Card Poker 1-2-5

A single 52-card deck is used to play the game. For ranking and comparing hands, the game follows standard poker rules.
The player makes an obligatory Ante wager.
A Bonus wager based on the poker value of the player's own five cards is an option.
Five cards are handed to each player and the dealer, with one dealer card facing up.
They must choose between folding, raising, buying, or drawing. More information about each choice is provided below.

Fold: The player
folds his five cards and sets them face down beside their Ante wager.
Raise: The player bets two times his Ante. In the gaming UI, this option is labelled "Bet."
Buy: To purchase a sixth Card, the player must pay an amount equal to his Ante.
Swap: To exchange one, two, or all five cards, the player must pay a cost equivalent to his Ante.

If the player used the Buy or Exchange options, he must now select whether to Fold or Play his new hand.
The dealer then proclaims the poker value of his hand after opening his cards.
The dealer needs a pair of twos or greater to qualify.
If the dealer fails to qualify, the player can exchange the top dealer card for a random card. The charge for doing so is the same as the Ante bet. To use this feature, select the Ante wager. When you're ready, press the "continue" button.
If the player used the dealer exchange option and the dealer still doesn't qualify after the exchange, the player will lose his Ante bet (ouch!), and the Raise bet will be pushed.
The Ante will pay more money, and the raise will push if the dealer does not qualify and the player does not use the exchange option.
Otherwise, the dealer will open each player's hand and settle it as follows:

The following player is the winner: The Ante pays the same amount as the Raise, and the Raise is paid according to the paytable below.
Both Ante and Raise are in a tie.
Both the Ante and the Raise lose, thus the Dealer wins.
Raise Bet Pay Table

HAND

PAYS

Royal flush

100 :1

Straight flush

50 :1

Four of a kind

20 :1

Full house

7 :1

Flush

5 :1

Straight

4 :1

Three of a kind

3 :1

Two pair

2 :1

Pair

1 :1

Ace-King

1 :1
Analysis
Bonus Bet

HAND

PAYS

PROBABILITY

RETURN

Royal flush

1000

0.00%

0.15%

Straight flush

500

0.00%

0.69%

Four of a kind

200

0.02%

4.80%

Full house

70

0.14%

10.08%

Flush

50

0.20%

9.83%

Straight

40

0.39%

15.70%

Three of a kind

25

2.11%

52.82%

All other

0

97.13%

0.00%

Total

100.00%

94.08%