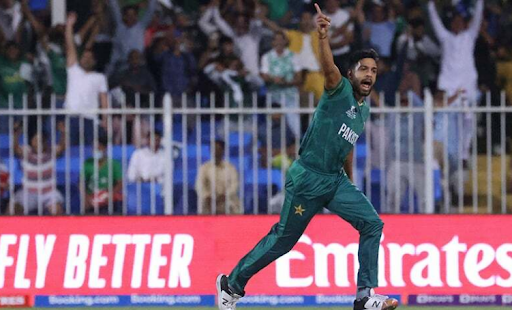 Gems of the Men in Green
Gems of the Men in Green
October 28, 2021  Authorbaji188
Pakistan narrowly defeated New Zealand in their T20 World Cup 2021 match in Sharjah on Tuesday. Here are the game's three heroes.

Haris Rauf
When things become tough, critics turn to a few obvious targets for every unstable team. Haris Rauf is one of these people. It may be because he was pulled out of from nowhere by the Lahore Qalandars and did not go into the traditional cricketing journey, or it could be because of his inclination to sometimes sacrifice direction for velocity, but before Sunday, every time he took the ball, Pakistan fans were nervous.

He was an outstanding player against India, and he was the superhero last night, as his maiden four-for restricted New Zealand to a meagre 134. He's shifted people's views about him in two games.
Asif Ali
Asif has been added to the team as a late-innings slogger. Average, runs, and other numbers are useless against him. He's a major factor who is maintained to do a very particular job, as they say in hoop speak. He may not do it very frequently, but he does it occasionally like he did last night when he hit back-to-back sixes in the 17th over to release tension and get the team back in the fight.

From now on, the one and only Asif, should not be bound by numbers, since he can do something that the rest of this lineup obviously can't: hit clutch sixes on command.
Shoaib Malik
Shoaib Malik was not scheduled to wear the jersey to the United Arab Emirates. He was nowhere close to the team, and if PCB Chairman Ramiz Raja had his way, he would have retired years ago.

Malik has been claiming for months, if not years, that he has plenty left in the tank to compete in another World Cup, but his sceptics, upset by his absence from World Cup 2019, have disregarded him.

The all-rounder proved his haters wrong last night. Malik stood strong, absorbed up all the heat to the point where his durag was dripping wet and refused to allow the Kiwi bowlers to get to him.

Remember, for all the elderly jokes made about him, there is no substitute for experience, and Malik has enough of it.
Summary
With the win last night and India's thrashing on Sunday, Pakistan is currently halfway there in the semi-finals. However, the squad should not let their strong start get the best of them, as there are no prizes granted for reaching the final four.

The Pakistan cricketers have both potential and great tempo working in their favour. They should not be content with their victories just yet and their eyes should be fixed on the final trophy.